NEWS
2017
FI MVA SE MVA LV MVA EEJV-16 EUJV-16 BENELUXJV-16 SEV-16 HeW-16 V-16 EEV-17 RIGAW-17 DEV-17 SHAGGY BLUE BOB'S UNDERCOVER GIRL, HELGA
BEST IN SHOW 1: 06.08 VALKEAKOSKI, AND 27.08 TERVAKOSKI
KOTKA IDS & OES SPECIAL SHOW Judge in race and group Davor Javor, Best In Show, Colm Hastings.
SHAGGY BLUE BOB`S UNDERCOVER GIRL "HELGA" ROP, RYP1 AND BIS2. FANTASTIC WEEKEND.
Finnish best bobtail competition 2016: Best bobtail and best young Shaggy Blue Bob`s Undercover Girl "Helga"
2016
This year has been a fantastic show year for our lovely "Helga" Shaggy Blue Bob`s Undercover Girl. 5 New titles, group winnings and also other places in groups. She is so wonderful dog.
EEJV-16 EUJV-16 BENELUXJV-16 SEV-16 HeW-16 V-16
10.03 Last weekend our lovely "Helga" Shaggy Blue Bob`s Undercover Girl in Lithuania, Vilna BIS 3, AND BIS 1 PUPPY. WE ARE SOOO HAPPY
07.02 Tallin Winter Cup Great day for us: Czarlinda`s Northern Lights, BOS, New EE CH, Czarlinda`s News are Good; BOB, BIG2, new C.I.B. Shaggy Blue Bob`s Undercover Girl BOB, BIS PUPPY.
BEST OLD ENGLISH SHEEPDOG 2015 CZARLINDA´S MARILYNS GIRL
2015
22.06 BLUESHIRE`S MADE FOR FINNS VWW-2015
New EE CH "Helinä" Czarlinda`s Marilyns Girl 15.02.2015
HAPPY NEW-YEAR
2014
09.06 New FI CH Czarlinda`s Love Song "Honey"
06.05 New FI CH Czarlinda`s Marilyns Girl "Helinä"
2013
19.05 Word dog show Budapest
Czarlinda`s Mona Lisa "Lumikki" JWW-13
02.03-03.03 Lithuania There was two shows ,first day Lithuanian Winner 2013 and second Vilnius cup, 2013. Our "Hermanni" Czarlinda´s Lonely Rider was BOB both days and now he has 2 titles more LTW-13 and LTMVA. "Bertta" Czarlinda´s Moonlight Shadow was the best junior bitch second day.
Hermanni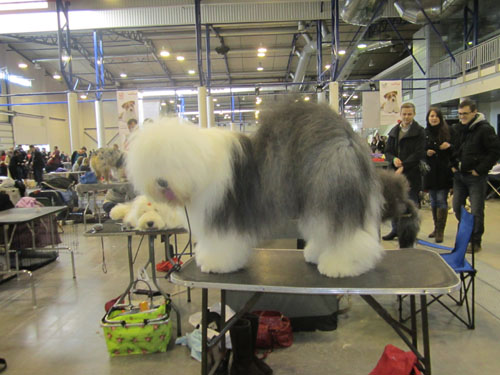 Bertta
07.02 We have DNA PCD tested two of our dogs, Furry Drifter´s If Only Unique "Max" and Blueshire´s Made For Finns "Marilyn". Results of both dogs were normal homozygous +/+ healthy. So also Czarlinda´s L-litter is healthy.
2012
20.12 We have now 3 new International Champions. Czarlinda`s Leonardo, Czarlinda`s Lonely Rider and Czarlinda`s Little Princess. Our Hermanni is also DK CH and Nord CH, Lennu LT CH.
This has been a good show year for us. Hermanni, Czarlinda`s Lonely Rider is now C.I.B, FIN CH, EE CH, S CH. Manteli, Czarlinda`s Little Princess C.I.B and FIN CH. Lennu Czarlinda`s Leonardo FIN CH, EE CH. Well done. Hermanni was also in Sweden BIG2, and in Kuopio BIG2 and BIG4. Lennu was in Riga BIG2. Our new puppies are now allmost 6 months and they have been in puppy show. All got good judgements , and Bertta was BIG3. Dusa who lives in Sweden was the BIG1 and BIS2 in the show. We are so proud of all of them.
TARTO 5 and 6.11 INTERNATIONAL DOG SHOWS. 5.11 the judge was Josefina Gomez Toldra Spain and 6.11 Myrna Siboleth Israel. "Hermanni" Czarlinda´s Lonely Rider was in both shows BOB and BIG 2. Our 18 months old "Hermanni" had a perfect weekend.
31.07 Pori International Show. Czarlinda´ Little Princes"Manteli" BOB and BIG2. Czarlinda`s Lonely Rider "Hermanni" BOS. What a great day for us.
17.07 We were in Paris WW-Dog Show. Furry Drifter´s if Only Unique "MAX" WVW 2011 and BOB in Veterans. His son Czarlinda´s Lonely Rider "HERMANNI" was third best male Junior.
18.06 Järvenpää. What a great day. Manteli BOB and BIG3, and she is now only one year. Hermanni was BOS and Lennu got res.cac.
05.06 Estonian Winner. Max got 2 titles Estonian W 2011 and Estonian Veteran W 2011. Max was also BOS. Manteli Estonian Junior W 2011.
22.05 was Helsinki International show. Manteli was BOS and got her first cac.
08.05 was Tampere International show. Max was second best male and best veteran. Lennu got his second cac, great. Manteli was secon best bitch and got res.cac again.
23.03 was Lappeenranta International show. Max was again best veteran, and our Manteli was second best bitch and got res.cac. Hermanni got exelent.
22.03 was Lahti International show. Our Max was best veteran and one of Marilyns and Maxs puppy Lennu got his firs cac.
13.03.2011 Latvia
We were in Latvian Winner show. Our succes was great. Max Latvian Veteran Winner, Marilyn Latvian Champion and Latvian Winner and Hermanni Latvian Junior Winner.
Turku 24.01.2010
Turku was our first competition of this year. Max and Marilyn got both very good judgments and they were best male 3 and best bitch 4.